The global marine and offshore sector has faced choppy waters in recent times, with an uncertain economic climate and the fall of oil prices impacting demand for new offshore vessels and structures. Despite the challenging conditions, Singapore's marine and offshore sectors remain in good shape to continue powering forward. Here, we take a look at the state of the industry and how it is transforming itself to rise above its challenges.


---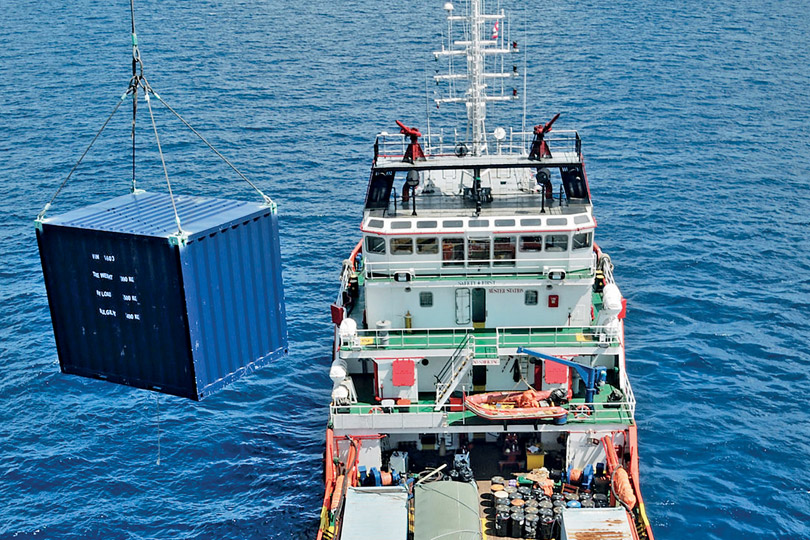 From Humble Beginnings to Industry Leader
Since its early days, Singapore has been an important port of call for international shipping vessels. With its ideal location along many major shipping routes, the Republic grew to become a leading centre for ship repair and maintenance. Fast forward to the present, Singapore has grown from strength to strength in this area, developing a thriving marine and offshore industry in synergy with its oil and gas, shipping and maritime sectors.

In many ways, Singapore's marine and offshore sector has benefited from rising oil prices in recent years, which has led to a greater demand for more offshore vessels to undertake oil exploration. The Republic has capitalised on this growth momentum to gain a market leadership position in the field of building jack-up rigs and conversion of Floating Production Storage Offloading (FPSO) units. It has also become a niche player in the construction of customised and specialised vessels.

Much of the expertise in this area is home-grown too, with Singapore being home to many successful marine and offshore firms, the two largest being conglomerates Keppel Offshore & Marine (O&M) and SembCorp Marine.
Major Economic Contributor
The marine and offshore engineering sector is a major contributor to Singapore's economy on many fronts. In spite of challenging conditions – such as an uncertain global economy and increased competition globally - the industry was able to maintain its total turnover above the S$15 billion mark in 2013. Of this, the rig building and offshore sector contributed most to the industry's total turnover in 2013, with S$9.72 billion. This constituted a whopping 63.5 per cent of total industry turnover. Meanwhile, the ship repair and conversion sector contributed S$4.74 billion or 31 per cent of the industry's turnover, while the shipbuilding sector accounted for a more modest S$840 million, or 5.5 per cent of turnover.

The industry is also a major employer in Singapore. In 2013, the total marine workforce in 2013 numbered 109,700 workers, an increase of 3 per cent from the year before. However, looking forward, Singapore's Ministry of Manpower (MOM) has indicated that the hiring outlook for the marine & offshore engineering segment is less sanguine, with employment growth weakness expected, due to the reduced demand for oil rigs. This can be attributed to the record low oil prices that has hit the market since the tail end of 2014, a result of reduced oil demand and excess capacity from US and OPEC (Organization of the Petroleum Exporting Countries) producers.
Rising Above Difficulties
In fact, the plunge of oil prices through 2015 is expected to be the major concern faced by Singapore's marine and offshore sector in the ensuing period, owing to its strong position in the offshore rig building business. Most of the oil and gas majors have pulled back on exploration and production activity, and this has resulted in more project cancellations and contract delays, as well as fewer new orders across the globe.

Singapore's marine and offshore sector has been able weather the storm well so far. This has been thanks to inherently strong business fundamentals and an order book that had been built up prior to the oil price crash. Moving forward, the industry will need to find ways to leverage on remaining opportunities to achieve growth amidst these conditions.
Finding New Niches to Dominate
Speaking at the 47th Anniversary Dinner of the Association of Singapore Marine Industries (ASMI) in October 2015, Senior Minister of State (Transport) Josephine Teo said that the industry needs to tap on its expertise in offshore conversions and repair to make inroads into the Floating LNG Vessel (FLNGV) sector. It was noted that Keppel Shipyard won a third contract worth over US$600 million to convert an LNG carrier into a FLNGV in July the same year.

In her speech, Mrs Teo also pointed out that with the long-term shift towards cleaner fuels, there will be opportunities in the highly-specialised market segment for the repair and maintenance of LNG (liquefied natural gas) vessels. In that regard, Singapore has built up competitive advantage, with Sembawang Shipyard recognised as a market leader for LNG vessel repairs, refits, and life extension works. Singapore's emerging position as the LNG trading hub for the region will undoubtedly also benefit this development.

With the uncertainties surrounding the oil market - and offshore rigs, by association – Singapore's marine and offshore sector has been hedging its bets by expanding on its position in less affected segments such as ship building, repair and conversion. In ship building, Singapore has built up a niche, specialising in building smaller and customised vessels. For ship repair and conversion, Singapore firms are pushing into niche segments such as LNG carriers, passenger ships, cruise ships and offshore support vessels.
Focusing on Productivity Improvements
Besides encouraging the industry to pursue opportunities in stronger performing segments, the Singapore government has also been working with the sector to look inwards too. Speaking at the opening of Sembcorp Marine's steel structure fabrication workshop - the largest of its kind in Southeast Asia - Economic Development Board (EDB) chairman Beh Swan Gin called on the marine and offshore industry to reinvent itself and bounce back from the current slump. He also pledged the government's full support to investments that help boost productivity.

All of this has been backed by with action so far. For example, under the aegis of the National Productivity Council (NPC), a Marine Transformation Plan (MTP) was unveiled, which seeks to enhance productivity across the board for the industry. For another, the Operations Management Innovation Programme for the marine industry – a joint collaboration between ASMI, the Singapore Workforce Development Agency (WDA) and the Singapore Institute of Manufacturing Technology (SIMTech) - has been helping companies in the industry identify and address productivity gaps.
Technology and Manpower Development to Boost Success
There has also been a greater focus on the development and adoption of technology for the marine and offshore sector. Since 2006, the Marine and Offshore Technology Centre of Innovation (MOT-COI) has been helping companies, with more than 150 projects completed so far. Many of these projects have resulted in significant productivity improvements.

Bringing it all together are the efforts to improve the manpower and talent development in the sector. As part of the broader SkillsFuture initiative being implemented at the national level, new programmes such as the SkillsFuture Earn and Learn Programme for Marine & Offshore Engineering have been launched. This is a work-study programme spanning a year, which allows participants to gain a specialist diploma in marine production - along with the attainment of specialised skills - while gaining invaluable work experience. Such programmes will help in developing a highly skilled marine and offshore engineering workforce here with a Singapore core.