General Information
Date:
2 - 4 September 2015

Venue:
Sands Expo & Convention Centre
Marina Bay Sands, Singapore
Level 1

Frequency:
Annual

Admission:
Free for trade professionals in the Green Building industry.
Minors below the age of 18 will not be permitted into the premises.

Visitors Forecast:
11,500

Dress Code:
Business attire (no shorts and slippers).
As part of our sustainability efforts, we also encourage all visitors to join us in our "no coat, no tie" dress code.

Exhibition Opening Hours:
2 September 2015, Wednesday
10.00 am - 7.00 pm


3 September 2015, Thursday
10.00 am - 7.00 pm


4 September 2015, Friday
10.00 am - 6.00 pm

Website:
www.bex-asia.com (Please pre-register online for your admission badge)
WHERE
GREEN PROFESSIONALS

CONVERGE IN SOUTHEAST ASIA

TBuild Eco Xpo (BEX) Asia is the global business sourcing, networking and knowledge-sharing platform for the sustainable built environment in Southeast Asia. The event draws together international brands of green building technologies and advancements, to the heart of the region's community of architects, building owners, contractors, consultants, developers and energy managers, for business opportunities and experiential engagements.

With a strategic focus on energy efficiency, BEX Asia stands as the anchor trade platform for the Singapore Green Building Week, held alongside the International Green Building Conference (IGBC). In addition, the inaugural Mostra Convegno Expocomfort (MCE) Asia, the first dedicated trade exhibition for the HVAC, Water, Renewable Energy and Heating Sectors of the Green Building Community in Southeast Asia will also be held in conjunction with BEX Asia.
BEX Asia Statistics and Figures
Regional Visitors & Visitor Professions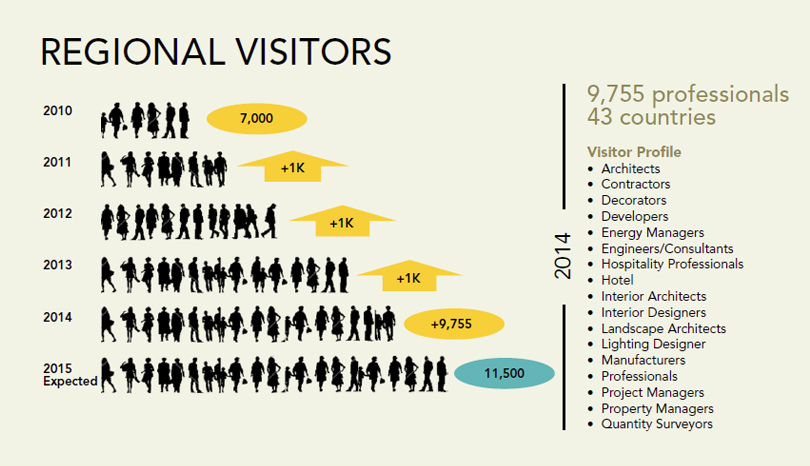 Global Exhibitors
Business Transactions
Why You Should Exhibit
11,500 building professionals expected in 2015
Increase your brand awareness with us via online, TV, social media and PR campaigns
Get connected with VIPs in the Green building industry via customised business matching
Present your latest Green building solutions and technologies to industry experts
Expand your network via our partnering organisations
Who Should Exhibit
Concrete & Structural

Blended cement
Concrete admixture
Mortar
Ready-mixed concrete

Reclaimed asphalt pavement
Recycled concrete aggregate
Washed copper slag
Steel
Facade & Roof Finishes

Acoustic ceiling
Fibre glass grating
Filtration systems
Glazing
Green roof & wall
Hard & soft landscaping
Metal cladding

Polycarbonate roof
Steel roof
Sky lighting
Wall cladding
Window films & coatings
Water proofing system
Membrane
Furniture & Furnishings

Blinds & shading
Decorating solutions

Fabrics - drapes
Modular furniture system & seating
Finishes

Adhesives & sealants
Access floors
Composite wood
Ceramic tiles
Carpets
Epoxy flooring & primer
Exterior flooring & decking
Floor underlay

Fittings
High pressure laminates
Insulation products
Laminated flooring
Paints & coatings
Panel board
Stone
Timber & wood
Smart Solutions

Automatic control systems
Building management systems
Cloud energy management solutions
Energy management systems
Fault detection & diagnosis
Monitoring & detection systems

Mobile linked technology & controls
Office eco-Internet of Things (IoT)
Security systems
Sensors
Voice recognition controls
Lighting

Architectural lighting
Lighting products and systems bulbs
Light emitting diodes (LED)
Intelligent controls & systems
Induction lighting

Lighting fixtures & applications
Display technologies
Tubular fluorescent lamps
Compact fluorescent lamps
Mechanical & Electrical

Access systems
Cables
Cable management systems
Electronic ballasts
Electrical panel board

Fire protection medium
Motor
Switchboards
Transformers
For more information, please contact:
Project Team
Ms Louise Chua
Project Director
+65 6780 4653
This email address is being protected from spambots. You need JavaScript enabled to view it.
Ms Michelle Goh
Assistant Project Manager
+65 6780 4573
Email:
This email address is being protected from spambots. You need JavaScript enabled to view it.
---
Sale Team
Mr Bernard Lim
Project Sales Executive
+65 6780 4530
This email address is being protected from spambots. You need JavaScript enabled to view it.
Mr Suhaimi Sainy
Corporate Affairs Manager
+65 6780 4642
This email address is being protected from spambots. You need JavaScript enabled to view it.
All information in this section is contributed by Reed Exhibitions Singapore. For more information on the BEX Asia 2015, visit www.bex-asia.com
About Reed Exhibitions
Reed Exhibitions is the world's leading events organizer, with over 500 events in 43 countries. In 2012, Reed brought together over 7 million participants from around the world generating billions of dollars in business. Today Reed events are held throughout the Americas, Europe, the Middle East, Asia Pacific and Africa, organized by 41 fully staffed offices. Reed Exhibitions serves 44 industry sectors, with trade and consumer events, and is part of the Reed Elsevier Group plc, a world-leading publisher and information provider.